Represented @Hispanicize 2015 as the official market research partner
Hispanicize is described by many as a high-energy, five-day event where some of the most talented experts, dynamic thought leaders, and powerful brands collaborate and share ideas on reaching and connecting with Hispanic consumers. As innovative specialists in Hispanic Research, ConneXion Research was thrilled to participate in this summit, representing the event as the official Market Research Sponsor for @Hispanicize 2015. What we didn't anticipate was just how powerful and fun this event would be and how many lovely people we would meet!
During the event Maricel Dominguez-Watson, CEO at ConneXion Research moderated two prominent sessions, "The Latina Millennial Mindset" and "Hombres Matter Too." Both sessions included expert panelist with many years of experience interacting and marketing to Latina and Latino Millennial.
For the Latina Millennial Mindset session, leading brands shared their experience targeting and connecting with Latina Millennials. Panelists included: Multicultural Director Nydia from Target; CEO, Richelieu Dennis from Shea Moisture; author of the blog "StyledByAle" and YouTube channel "Chula Vision," Alejandra Ayala ; and Marketing Director, Natalie Aurora from Boden PR. 
For this session, we presented the preliminary research and the current findings of our nationwide online survey with 350 Latina Millennials, ages 18 – 34. The findings are still available for download at www.connexionresearch.com/latinamillennials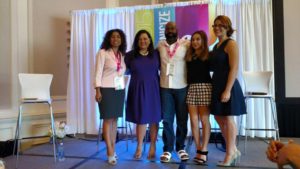 Although, more than half of the Hispanicize attendees consisted of Latinas, we knew that it wouldn't do justice to leave out our Latino Men.  After all, "Hombres Matter Too!" In this session, we gathered top social media influencers and thought leaders, such as Hugo Balta from ESPN, Rikki Rincon from Creative Juice Online, George Torres from @urbanjibaro, Mark Williams from Kelley Blue Book, Carlos Diaz from Guey sports, and Mario Calderon from Difference of 1 Production. These panelists were able to share the do's and don'ts when targeting Latinos through various marketing efforts.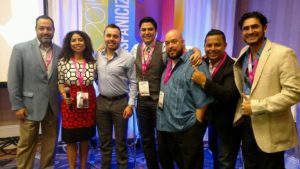 The next step for us is to continue fielding for this study in order to develop more thorough findings,  as well as a new Segmentation Model. In addition, we will include further findings for Latino Millennials as well. The report will be available in waves from May-June of 2015.
Lastly, to keep things interesting and fun, we also hosted a Hispanic Trivia for attendees to test their knowledge of the U.S. Hispanic Consumer. Many took the test, but only a few got 90% or more.  However, the winner, Michael C. Warner, CFO of EGAMI GROUP, the onlyperson  to achieve a perfect score, took the winning prize of a $500 shopping spree and a bottle of Tequila. If you think you got what it takes to get a perfect score, you can test your knowledge at www.connexionresearch.com/hispanictrivia.
All in all, the event was one of the best experiences for all of us at ConneXion Research and we definitely plan to be involved again for @Hispanicize 2016 in Miami. To best share our experience, we have included additional photos of our wonderful time @Hispanicize. Enjoy!