Growth
Over the past few decades, the Hispanic population in the United States has grown rapidly and is at 60 million which is greater than the populations of each Spain, Canada, and Australia. Currently, ethnically diverse segments are driving population growth in the United States. This minority group is so large that the Hispanic consumer sector leads the multicultural marketing efforts in the country and has advanced from a regional to a national scale effort.
Hispanic American market sales increased by 10% in the past year which is greater than the American average of 8.5%. Hispanic shoppers contributed $1.9 trillion in 2020 and their buying power has increased by 87% in the past 10 years. It is projected that in 3 years, their buying power will increase to $2.6 trillion. Their current spending power tops the GDP of Spain, Mexico, and Australia.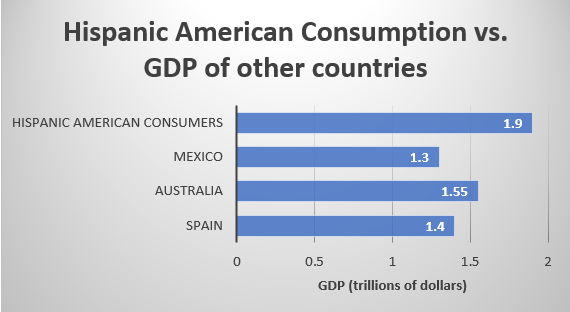 Small businesses, which are currently led by ethnically diverse segments, are experiencing an economic boom. Additionally, Hispanic advertising investments are growing faster than English-language media which was hit harder than Hispanic media during the 2009-2010 recession.
Supporting the Growth
The Hispanic segment in the United States is focused primarily on consumption. They look for not only high-quality products but tend to also look for products that align with their culture and values as, according to a Nielsen article, 71% of Hispanic Americans feel strongly connected to their country of origin. 76% of Hispanics prefer in-store over online shopping with mass merchandisers and grocery stores being their most popular shopping destinations. Hispanics purchase more laundry detergent, fruit, and fresh meat than the average American.
There tends to also be higher brand loyalty in the Hispanic community. As a result, if one person in the family buys something from a particular brand and likes it, chances are most of the other family members will buy from the same brand as family tends to be important in the Hispanic community.
98% of Hispanic Americans own smartphones compared to the American average of 92%, which means advertisements play a large role in the path to purchase for the Hispanic community. Along with this, they may see these advertisements on apps/websites such as Discord, Instagram, and WhatsApp, which they tend to use more often than the average American consumer.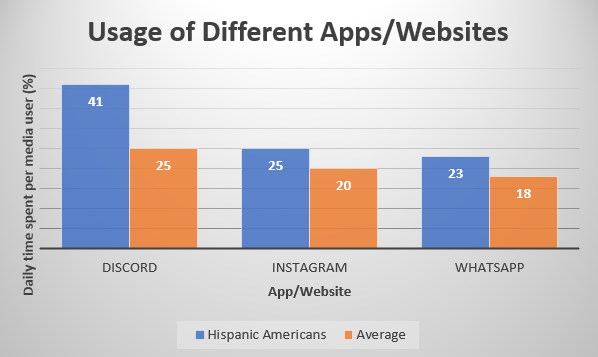 Problems facing Hispanic Consumers
Hispanic spending (11.4%) is lower than its share of the population. One of the major problems this community faces is the wage gap which hits foreign-born Hispanics even harder than American-born Hispanics.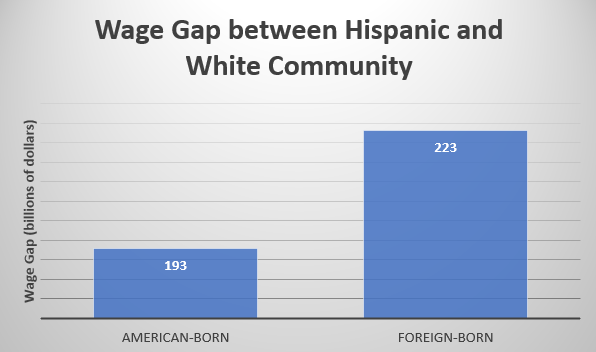 The rate of Hispanic entrepreneurship is high, but these businesses tend to make less profit than white-owned businesses. Overall, Hispanics tend to work in low-wage occupations and are overrepresented in this category. This is what caused a larger disruption in the Hispanic community than average due to the pandemic as it was harder for these jobs to be moved onto a virtual setting. As for Hispanic business-owners, their businesses are concentrated in lower-growth industries.
Additionally, many Hispanics live in consumer deserts which makes it harder to access healthcare and banking. It is also harder for them to create businesses as due to this lower access to banking, it is harder for them to find loans.
Conclusion
Although there are still problems for Hispanic consumers, this community is experiencing tremendous growth economically in this country and there are solutions to the problems being faced. Recruiting strategies are beginning to be implemented with GM providing $5.7 million in scholarships for Hispanics going into STEM. With Hispanics receiving their fair share of support, much of their struggles in consumption will be relieved. There is a direct correlation between having a bachelor's degree and living below the poverty line as 8% of Hispanics of Mexican origin have a bachelor's degree with 13% living below the poverty line and 27% of Hispanics of Cuban origin having a bachelor's degree with 8% living below the poverty line. With continued economic growth and support, the rapidly growing Hispanic community in the United States will have a bright future.
Works Cited:
Davis, Kip, and Ingrid Carrete. "Hispanics Are Gaining Wealth in America." IPSOS, 2022.
de Armas, Stacie. "Inclusion, Information, and Intersection." Nielsen, 2021.
"La Oportunidad Latinx: Meeting U.S. Hispanics on the Path to Purchase." Nielsen. Last modified July 21, 2022. Accessed July 30, 2023. https://www.nielsen.com/insights/2019/la-oportunidad-latinx-2/.
Lennon, Virginia, and Andrew Buss. "U.S. Hispanics." IPSOS, 2021.
Mizrahi, Isaac. "Seven Reasons Why the Hispanic Segment Can Beat the Recession." Forbes. Forbes Magazine, January 25, 2023. Last modified January 25, 2023. Accessed July 30, 2023. https://www.forbes.com/sites/isaacmizrahi/2023/01/23/seven-reasons-why-the-hispanic-segment-can-beat-the-recession/.
"The Economic State of Latinos in America: The American Dream Deferred." McKinsey & Company, December 2021.
"Who Is the Hispanic American Consumer?" NIQ. NIQ, September 15, 2022. Last modified September 15, 2022. Accessed July 30, 2023.
https://nielseniq.com/global/en/insights/analysis/2022/who-is-the-hispanic-american-consumer/.