57% of Companies Experiencing Financial Growth are Talking to their Consumers
Organizations experiencing financial growth during the pandemic are more likely to be using market research to inform all or most of their decisions.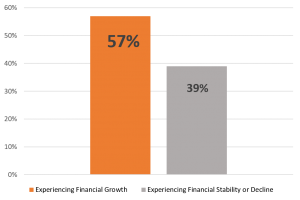 Credit: Greenbook – Surviving 2020: How a New Approach to Market Research Can Help Companies Adapt
---
Q4 is here! As we wrap up the year, we are here to help you make the best decisions possible.
Clients are still hesitant about conducting research but several research studies have proven two things.
---
1. Consumers are ready to be engaged in research studies. They want to voice their opinions more than ever. The pandemic has caused their consumer behaviors to change and they need to know that companies are listening.
---
2. The statistic above shows that companies who are involving research for all or most of their decisions are experiencing financial growth. Companies can no longer make assumptions of what their customers want now or would want next. Given the pandemic, behaviors have changed and this is impacting business decisions.
---
ConneXion is here to help you make sure you make the best of Q4 and begin your 2021 planning.
---
Please contact us for budget friendly prices for projects approved by end of year.
---
We have the capabilities to do in-person, online and phone studies to make sure we have the methodology that works best for you and your consumers.
---
CONTACT US TODAY – info@connexionresearch.com or 281-815-4970